Frequently Asked Questions
Does an electric vehicle need servicing?
Yes, electric vehicles still need servicing. But compared to a combustion engine vehicle, there is a lot less to go wrong over time. Gone are the days of oil changes, belt changes, new spark plugs or replacing that exhaust. Which generally means fewer breakdowns, lower running costs and less hassle.
So, what does need keeping in check on an EV?
Tyres and Suspension
Electric vehicles tend to weigh more due to their batteries, and tyres on heavier vehicles tend to wear out faster. Tyre wear varies hugely between different manufacturers and models - keeping your tyres healthy and in-check is vital for keeping your vehicle safe on the road. Suspension and steering / tracking will also be checked during service disagnostics.
Brakes
Thanks to regenerative braking, electric vehicles do not wear their brakes down as fast as conventional vehicles. All that kinetic energy goes back into the battery, slowing down the vehicle at the same time - rather than just heating up brake pads. For example, C&C taxis in Newquay drove their first Nissan Leaf over 100,000 miles, still on its first set of brake pads; and in July 2021 it was reported that a Tesla Model S owner had clocked up over 400,000km in the vehicle, all on its first set of brake pads. That's going to keep the costs down.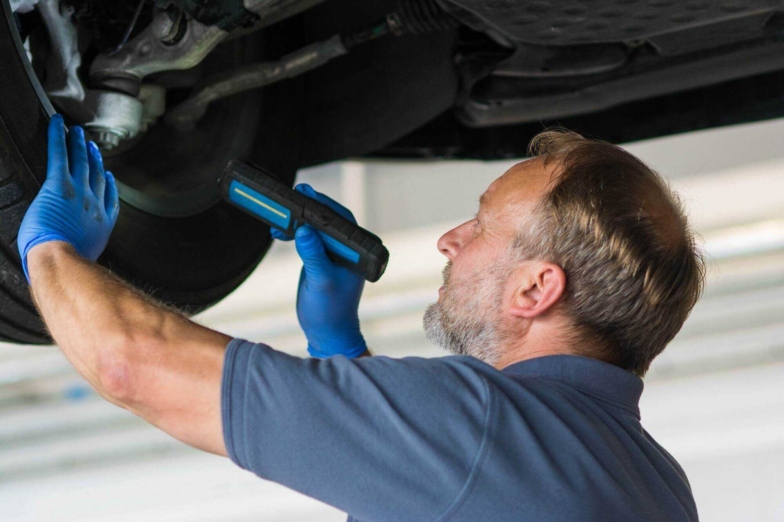 Electric Vehicle Servicing in Brighton & Hove
Rivervale is Brighton's #1 Service and MOT centre for cars and vans. They have the latest, state of the art tools and diagnostic equipment and will always ensure first-class service for your car or van - at a competitive price.
Their in-house expert technicians are Bosch certified and work with all makes and models of electric vehicles, using only the highest quality replacement parts. If you need an MOT or service for your EV, give them a call.
To receive a free multi-point vehicle health check with any service or MOT booking made, quote "Electric Brighton".
Rivervale are a paid supporter of Electric Brighton
Air Filters and Air Conditioning
There's no difference here to combustion engine vehicles. You'll want to make sure that your air filters are clean to help keep your cabin air as healthy to breathe as possible. Air-conditioning normally needs to be checked for leaks and the refrigerant periodically replaced.
Wipers, washer fluid and lights
Gotta keep those windows clean! Replacing wipers and keeping the washer fluid topped up are straightforward tasks you can do yourself at home. Lights may also need changing, although many cars now have long-lasting LEDs which need less attention.
Software updates
Electric Vehicles are controlled by computers and those computers need software. When it comes to updating that software, sometimes manufacturers will require service centres to install and update it. Increasingly however, manufacturers like Tesla provide over-the-air updates, meaning that their vehicles are constantly receiving and installing new functionality and improvements over time - reducing the need for service centres to do this job.

What about the battery?

The first thing many people will think of when servicing an electric vehicle is whether or not the battery will ever need replacing, or how long will does an EV Battery last, exactly? Well, the short answer is no - the battery won't ever need replacing. Only in very exceptional circumstances would an EV battery need replacing and it certainly is not something people seek to do, as the battery is the still the most expensive component in the vehicle. When electric vehicles first appeared, it wasn't really known how their batteries would fair in the long run, but now they've been around for a while, we know that batteries generally hold up pretty well. Their sheer size means that unlike batteries in smartphones and laptops, which need replacing every few years, ev batteries only lose a small portion of their capacity over time. Which is why most manufactures provide warranties on their batteries of over 100,000 miles. Most EVs do have auxiliary batteries, however, and these will be checked with any EV service.
---
Article last updated on March 24th 2023.